Part One: What are BB/CC creams? Why do they have so much hype?

First, what is a BB cream? Why is it getting so much hype? Well, a lot of this is due to the marketing that goes behind these creams. They look like tinted moisturizer or foundation in tubes, but the marketing that accompanies these products is often crazily hyperbolic. Often BB creams promise a myriad of skincare benefits all at once (the most common combination is typically whitening, anti-wrinkle, and UV protection), which leads to the perception that these creams are good for your skin. CC creams also promise similar benefits - they're really just souped up BB creams, if you will.

Some of my non-Asian readers may not be as familiar with BB creams, so let me show you how crazy the hype and advertising can be, by looking at some of these ads. I kid you not, they do promise everything and the kitchen sink:



Source


Above, your usual "whitening, anti-wrinkle, and UV protection" spiel. Below, a BB cream that promises to "supply moist and nutritional contents to keep smooth skin tone". I'm not too sure if "nutritional" is the right word...I mean, you don't exactly eat BB cream. Sure, what you put on your skin does affect the condition of your skin, but your skin doesn't really absorb nutrients in the same way that your stomach does, so you can't really supply nutrition to your skin this way. In fact, most of the time, the function of the skin is to act as a barrier between the environment and your innards, and keep germs and other nasties out.



Source


More "triple functional" BB creams, with the usual "whitening, anti-wrinkle, and UV protection" spiel. Many of them, in fact. This one below has some sort of snail extract, which is supposed to have extra skincare benefits. Now I believe you shouldn't knock something til you've tried it, but I can't help thinking that it's just a bit gross. Snails = gross, slimy creatures. Do not want on face!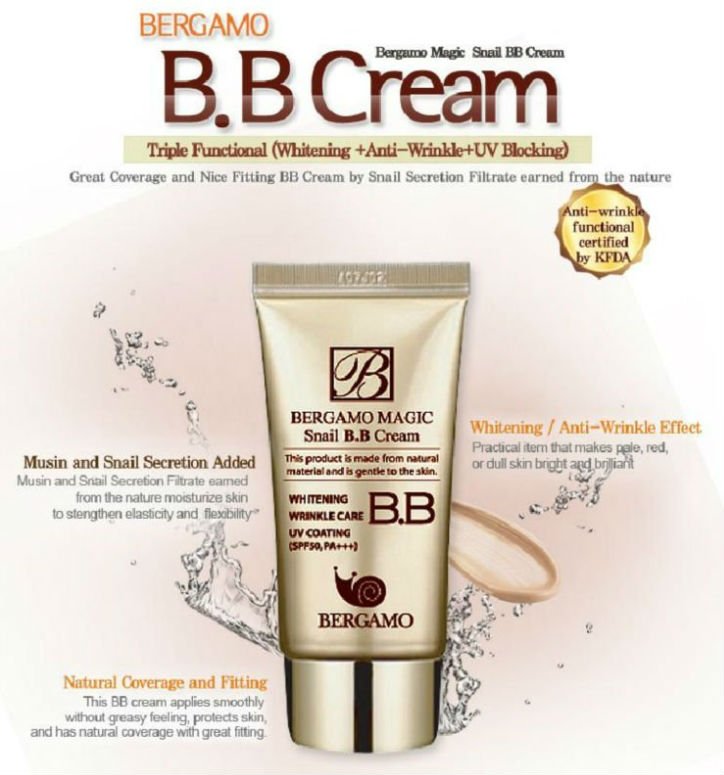 Source


And this one below, besides your typical "whitening, anti-wrinkle, and UV protection" sales message, there is also some anti-pimple skincare promise too ("zero trouble").


Source


Contributing to the hype is the fact that some BB cream brands advertise themselves as having natural or organic ingredients, thus furthering the marketing story. As an example, this one below has "15 natural extracts an nutritious ingredients" for "added skincare benefits". Once again, I'm not sure exactly how BB cream (or any makeup product for that matter) can be nutritious to your skin.


Source


Of course, now that Western brands have jumped on the bandwagon, they're no different. 8-in-1 skincare benefits? Really? Sheesh.




Part Two: Why write a post on BB creams?

Now that we're all on the same page on BB creams and what they are, the reason why I decided to write this post is because I feel like given the disproportionate amount of beauty claims these creams are making, most of these BB creams don't actually live up to the hype. In fact, some can actually aggravate acne and sensitive skin.
Continue Reading . . .
BB/CC Creams Hype vs Ingredients: Do They Actually Work?
Reviewed by

sayna tasya

Published :

Rating :

4.5

BB creams have been a steady trend that's been going strong for the past few years, and the trend has even been exported from Asia to the West. A lot of these BB creams make very outlandish claims that are not always backed up by their ingredients list, so I thought I'd write a post on what exactly BB creams are, as opposed to how they are marketed. Because, you know, you can't always trust the marketing!